Barbara Kimenye (1929-2012)
One of East Africa's most prolific children's writers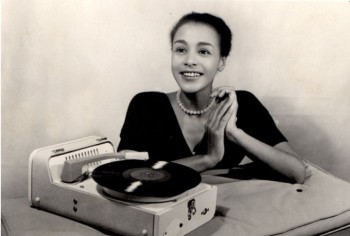 Barbara Kimenye (née Clarke Holdsworth), described by Nancy J. Schmidt as "one of East Africa's most prolific children's writers", was born on 19 December 1929 in Halifax, Britain, to a West Indian doctor father and an English Catholic mother. Kimenye attended Keighley Girls' Grammar School, and when she was older, moved to London to train as a nurse. It was in London that she met the son of a Bukoba chief in then Tanganyika, William Kimenye, who would later become her husband. The married couple moved to Bukoba in the mid-1950s.
The marriage of Barbara and William Kimenye did not last long: the couple separated and Barbara, pregnant with her second child, decided to relocate with her toddler son Christopher to Kampala, Uganda, where she had many friends – who now occupied high political positions – from her student days in London. Kimenye worked several different jobs during her time in Kampala: she was employed as private secretary in the government of Mutesa II, the then Kabaka of Buganda; worked as a journalist for the Uganda Nation (the first black woman in East Africa to occupy such a position); as well as for Kenya's Daily Nation as Kampala-based correspondent.  At the same time, she was also writing her first book, Kalasanda, a collection of short stories set in the fictional village of Kalasanda in Buganda, published by Oxford University Press in 1965. Kimenye chronicled her experiences of life in Kampala in Tales from Mutesa's Palace, an unpublished book, later serialised in the Ugandan Newspaper Daily Monitor in 2015.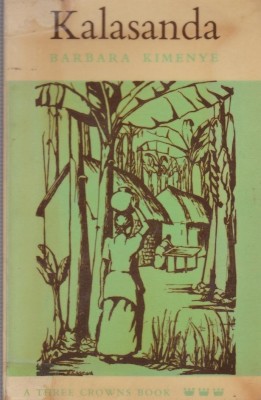 Kimenye moved to Nairobi in 1965, where she worked as a journalist for Daily Nation and the East African Standard, as well as continuing to write books. Following the success of Kalasanda, she worked on its sequel, Kalasanda Revisited (1966), and penned children's books, most notably the famous Moses series, a school boy series about the escapades of Moses and his friends at a boarding school in Uganda, which, to this day continue to be much loved by children across East Africa.
In 1975, Kimenye moved back to Britain, where she had already sent her sons for education, and worked there as a race relations adviser for Brent Council in London. She continued to follow Ugandan news, and was involved in providing support to exiles and refugees from Uganda during the years of conflict in the country under Idi Amin and Milton Obote. Kimenye relocated back to Kampala in 1986, with the desire to help rebuild Uganda after Obote was ousted by Yoweri Museveni's National Resistance Movement, and in 1989, she moved to Kenya again. During all these years, she continued to write children's books, including Gemstone Affair (1978), Beauty Queen (1988), as well as more books in the Moses series. Kimenye eventually moved back to London in 1998, where she was an active member of the community in Camden. She passed away on 12 August 2012.
Connections with the global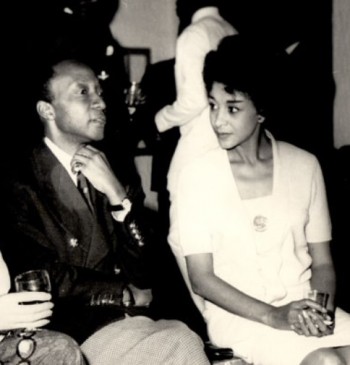 Kimenye's years as a student nurse in London laid the basis for her future global networks in Uganda and East Africa: she befriended students who were among the first Ugandans to study in Britain, and would later form part of the country's elite, so when she later eventually relocated to Uganda, she moved and became active in their spaces. Kampala in the 1960s – in part due to Makerere University's stellar reputation as arguably Africa's best university of the time – witnessed a vibrant cultural and intellectual scene, attracting politicians, journalists, artists and academics from all over the world.
For all its vibrancy, however, the circles remained small, and Kimenye met several figures familiar in East African history. It is said, for instance, that she became a journalist due to a chance encounter in a Kampala nightclub with Tom Mboya, who encouraged her to pursue the profession. When working as a correspondent for the Kenyan newspaper Daily Nation, while still living in Kampala, Kimenye interviewed Barbara Brown, Rajat Neogy's wife and founder of the Nommo Gallery in Kampala. Ngugi wa Thiong'o, during his student days at Makerere, also encountered Kimenye at a party in Kampala, and in his memoirs Birth of a Dreamweaver describes himself as a bedazzled student, fascinated by her 'exotic' background (due to her West Indian heritage), and the fact that she seemed cosmopolitan and well-travelled.
Kimenye's books reflect the globality of her life: For example, Kalasanda, though set in a small fictional village in the Buganda Kingdom, contains elements of connections to the outside world, including hinting at Cold War politics. News of the Russians landing on the moon is brought to the people of Kalasanda by a lorry driver, whom the villagers hold in high esteem for this. Though Kalasanda is a work of fiction, it nevertheless is indicative of connections between the global and the local, as well as demonstrating Kimenye's experiences of globalisation, as she expresses this in her art.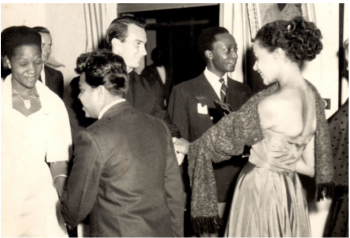 As a journalist and author, Kimenye was one of the few women in Uganda and East Africa at the time writing and being published in English. However, despite her books' popularity, Kimenye did not gain as much fame outside of East Africa comparatively as her male regional counterparts did, such as Ngugi wa Thiong'o or Okot p'Bitek, who were both published by Heinemann's African Writers Series. This may of course have been due to finances and marketing, as international publishers then were aware that topics the aforementioned authors chose to write about would sell more than, for instance, Kimenye's children's stories. However, it is also indicative of gendered power relations through the writers' differing access to publishing opportunities.
A focus on Kimenye as a historical figure also sheds interesting light on the nuances of race relations in an early post-colonial Uganda. Even though she was a black mixed-race woman, it seems that it was her proximity to whiteness that opened many doors and opportunities to her living in Kampala in the 1960s. Kimenye described Uganda as "liberal" with "a great deal of mixing going on all over the place"; however, there was still a socio-economic hierarchy present, defined by race and class, and only black Ugandans with sufficient economic capital could access elite circles that consisted largely of white expatriates at the time. Kimenye herself lived as a single mother "a simple lifestyle" in a "small household" – circumstances which would have prevented black Ugandan women from moving in the circles Kimenye did. The fact that she was half white gave her access to many spaces and privileges her black Ugandan counterparts would not necessarily have had. Arguably at the same time, however, because she was (half) black, and had been married to a black Tanzanian, she was accepted as an East African cultural figure more so than, for instance, Rajat Neogy, in part due to racialised colonial legacies in the region.
Kimenye lived a tumultuous life inherent with social contradictions: her privileges of mobility were juxtaposed by the paucity of wealth, as she raised her two children as a single mother in Kampala, which again was contradicted by her movements in Kampala's high society – altogether indicative of the colourful and turbulent decade that was the 1960s in East Africa.
Archives
Macmillan Memorial Library, Nairobi, Kenya.
Makerere University Library, Kampala, Uganda.
Oxford University Press Archives, Oxford, UK.
Further Reading
Ngugi wa Thiong'o, Birth of a Dreamweaver: A Writer's Awakening (New York: The New Press, 2016)
Elizabeth F. Oldfield, Transgressing Boundaries: Gender, Identity, Culture, and the 'Other' in Postcolonial Women's Narratives in East Africa (Amsterdam: Rodopi, 2013)
Caroline Davis, Creating Postcolonial Literature: African Writers and British Publishers (Basingstoke: Palgrave Macmillan, 2013)
Nancy J. Schmidt, "The Writer as Teacher: A Comparison of the African Adventure Stories of G. A. Henty, Rene Guillot, and Barbara Kimenye", African Studies Review 19, no. 2 (1976): 69-80.
Daily Monitor serial: Tales from Mutesa's Palace, Barbara Kimenye
"New Series: My Life with Kabaka Mutesa" https://www.monitor.co.ug/News/National/New-series--My-life-with-Kabaka-Mutesa/688334-2884480-3bagxwz/index.html
"Tales from Mutesa's Palace: Arriving to a New Life in Uganda" https://www.monitor.co.ug/News/National/-Arriving-to-a-new-life-in-Uganda/-/688334/2885436/-/gyx0w8z/-/index.html
"Thief Disrupts Rubaga as New Baby Arrives" https://www.monitor.co.ug/Magazines/PeoplePower/Thief-disrupts-Rubaga-as-new-baby-arrives/689844-2886148-6xrcij/index.html
"First Evening Out with Kabaka Mutesa" https://www.monitor.co.ug/Magazines/PeoplePower/First-evening-out-with-Kabaka-Mutesa/689844-2897360-10nbruiz/index.html
"Tales from Mutesa's Palace: Fun and Sleepy Side of Mengo's Township" https://www.monitor.co.ug/News/National/688334-2896104-format-xhtml-kr5dhsz/index.html
"Tales from Mutesa's Palace: Boat Cruise with Mutesa, Birth of Another Prince" https://www.monitor.co.ug/News/National/Boat-cruise-with-Mutesa--birth-of-another-prince/688334-2905988-yb9774/index.html
"Working and Partying at Mengo with Kabaka Mutesa" https://www.monitor.co.ug/Magazines/PeoplePower/Working-and-partying-at-Mengo-with-Kabaka-Mutesa/689844-2908056-lpkqgq/index.html
"Mutesa, Prince Mutebi survive, Angry Elephants" https://www.monitor.co.ug/SpecialReports/Mutesa-Prince-Mutebi-survive-angry-elephants/-/688342/2916922/-/oq2r59z/-/index.html
"Flu keeps Mutesa Home, Dance with Burundi King" https://www.monitor.co.ug/SpecialReports/688342-2918224-ut0eq2/index.html
"Tales from Mutesa's Palace: Fun and Scandals in Mutesa II's Palace" https://www.monitor.co.ug/News/National/-Fun-and-scandals-in-Mutesa-II-s-palace/688334-2926994-76188m/index.html
"African 'Father Christmas' Stampede knocks Mutesa down" https://www.monitor.co.ug/Magazines/PeoplePower/African-father-Christmas-stampede-knocks-Mutesa-down/689844-2928104-nv7rx2/index.html
"Englishmen Dupe the Kabaka into bad Deal" https://www.monitor.co.ug/News/National/Englishmen-dupe-the-Kabaka-into-bad-deal/688334-2936182-lb2mwn/index.html
"How Kabaka Yekka, UPC Marriage was Hatched" https://www.monitor.co.ug/Magazines/PeoplePower/How-Kabaka-Yekka--UPC-marriage--was-hatched/689844-2936918-85kslez/index.html
"State Killings, the Attack on Mengo" https://www.monitor.co.ug/News/National/State-killings--the-attack-on-Mengo/688334-2945192-64aqy9/index.html
"Bob Astles is rejected by Kabaka, hangs onto Obote, Amin" https://www.monitor.co.ug/Magazines/PeoplePower/Bob-Astles-is-rejected-by-Kabaka-hangs-onto-Obote-Amin/689844-2946366-ytra0xz/index.html