Binyavanga Wainaina (1971-2019)
Writer, journalist, publisher, literary activist and gay rights activist
Early Life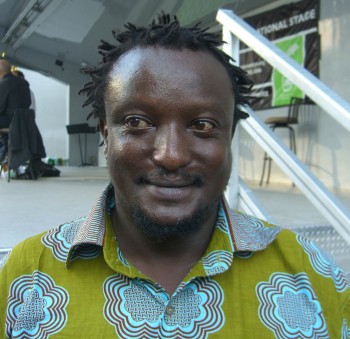 (Kenneth) Binyavanga Wainaina was a Kenyan writer, journalist, publisher, literary activist and gay rights activist. He was born on 18th January 1971 in Nakuru, Kenya. Wainaina attended Moi primary school in Nakuru. He moved to Mang'u high school and was later transferred to Lenana school in Nairobi. In the course of his high school education, he decided to drop the name Kenneth and began to identify as Binyavanga Wainaina. At the persuasion of an uncle that lived in Transkei, Wainaina moved to South Africa in 1991 to study commerce at the University of Transkei. He undertook the degree on and off for a number of years. Wainaina later on relocated to Cape Town and worked as a freelance travel and food journalist. He moved back to Kenya in 2000 when his mother was on her deathbed and continued to do freelance writing. In 2010, he graduated with an MPhil in Creative Writing from the University of East Anglia.
During his writing career, Wainaina was a writer-in-residence at a number of colleges in the USA: he joined Union College in New York as a Lannan fellow and a writer-in-residence in 2007 before proceeding to Williams College, Williamstown, Massachusetts in the fall of 2008 as a Sterling Brown fellow. In 2009, Wainaina was made a fellow at the Rift Valley Institute, a position that enabled him to participate in Rift Valley Forum discussions both in Kenya and the USA. In 2009, he also became a Bard Fellow and director of the Chinua Achebe Centre for African of African Writers and Artists at Bard college. Wainaina held this position until 2012 when he moved back to Kenya at the death of his father. His creative and journalistic pieces have appeared in various online and print magazines including G21, The Sunday Times (South Africa), Granta, The East African, National Geographic, The New York Times, The New Yorker, and Chimurenga. Wainaina also published a memoir, One Day I Will Write about this Place in 2011.
Literary Prominence and Literary Activism
Wainaina was catapulted to literary prominence in 2002 when his short story 'Discovering Home," which was initially published in G21, won the Caine Prize for African Literature. "Discovering Home" pioneered in many ways. It was the first Caine Prize award for a Kenyan author. At the same time, it was the first time the judging panel of the Caine Prize considered short stories published online. In an interview with Frank Bures, Wainaina mentioned that once the story was sent to them, the judges got back to him claiming that they did not accept stories published on the internet. Part of his response to the panel was a provocation that led to a change in format of stories accepted for the award: "Now, if in the last twelve months, not a single collection of African writing –short stories– has been published in Africa, where do you think you're going to get submissions from?". Wainaina was already disrupting the status quo and continued to do so initiating systemic change everywhere he went.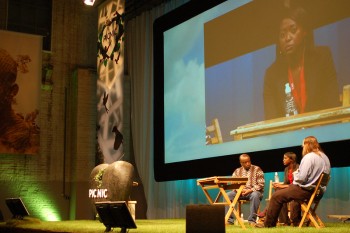 Wainaina's literary activism can be traced to an earlier period when he was still schooling. What is known as his famous essay "How to Write About Africa" was initially a letter of protest about Granta's 1994 issue, Granta 48: Africa, which largely documented travel reflections/narratives by different writers (largely Eurocentric) on different parts of the continent. Wainaina was exasperated by the stereotypical leaning in most of the stories published in Granta 48: Africa and sent the editors of the magazine a letter protesting the misrepresentation of the continent in the issue. This essay was later on published in Granta 92 in 2005 and it cemented Wainaina's place as an outspoken critic and literary activist.
Wainaina's literary activism and passion for plurality of voices in telling African stories is also seen in his interviews and actions regarding literary writing. After winning the Caine Prize for African writing, Wainaina used the prize money to collaborate with like-minded friends and start the Kwani Trust, a foundation that focused on publishing emerging African authors who were necessarily outside the global literary marketplace and its politics. He was the founding editor of Kwani?, a position that allowed him to give global visibility to previously unknown African writers. One of the foundation's initiatives was the unpublished manuscript award. Jennifer Nansubuga Makumbi's Kintu went on to win the inaugural Kwani manuscript prize. The world acclaim of this novel is affirmation of Wainaina's passion and the foundation's intent on putting emerging authors into the global literary map. Kwani also published Kenyan writers who went on to achieve global literary success such as Yvonne Adhiambo Owuor (whose short story, "Weight of Whispers," published by Kwani? went on to win the Caine prize in 2003); Parselelo Kantai, who was short listed for the Caine prize in 2004; Andia Kisia, who went on to win a number of literary awards across the globe; and Stanley Gazemba to name a few. The Kwani trust through Kwani?, a literary magazine, engaged in experimental writing which pushed the boundaries of acceptability within the gate-keeping spirit of the literary canon. In an interview, Wainaina acknowledged that his work at Kwani? ruffled the feathers of 'academics and educational bureaucrats at the Kenya Institute of Education (currently known as Kenya Institute of Curriculum Development). He argued that this crop of leaders who were charged with deciding the curriculum of schools in Kenya had "grown out of touch with the new, young urbanized, internationalized Kenya…. [ and they] had sucked all the life out of Kenyan literature".
Wainaina's networks with other African writers within and beyond the continent was instrumental in the creation of a vibrant writing and publishing culture across Africa. Through engagements with other intra-continentally based writing and publishing organizations that focused on nurturing and providing a global visibility for African stories, Wainaina and like-minded writers who had achieved acclaim globally built a new generation of creative writers and shone the light on them globally. Some of the initiatives that Wainaina collaborated with in organizing writers' workshops, seminars, awards, and book festivals include Chimamanda Ngozi Adichie's Farafina, Dami Ajayi and Emmanuel Iduma's Saraba, Lola Shoneyin's Ake Festival among other literary platforms across the continent. Clearly, such initiatives made Wainaina into the Pan-African activist that he was.  
In 2007, Wainaina was nominated by the World Economic Forum as a "Young Global Leader," for his role at Kwani? and the impact that his work had globally. He declined the award saying: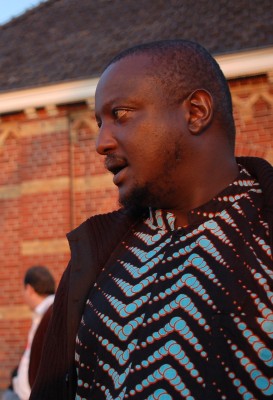 I assume that most, like me, are tempted to go anyway because we will get to be "validated" and glow with the kind of self-congratulation that can only be bestowed by very globally visible and significant people, …. And we are also tempted to go and talk to spectacularly bright and accomplished people – our "peers". We will achieve Global Institutional Credibility for our work, as we have been anointed by an institution that many countries and presidents bow down to.
His idea of being global was very much situated in his work as an African writer pushing for visibility of African-based writing in the world. His rejection of the 'Young Global Leader' award is also a suggestion of his abhorrence of institutions of the global north in validating him or his work. He proclaimed himself a Pan-Africanist through and through. This was another opportunity where Wainaina made a mark in literary activism.
His address at the 2012 African Studies Association, UK (ASAUK) titled "I am a Pan-Africanist, not an Afropolitan" was a statement that reflected his passion and purpose in literary activism in Africa. Wainaina argued that Afropolitanism had become a term that reduced Africa to a commodification, a product funded by the West and sold globally. He saw the Afropolitan novel as a novel that touched on issues but is ultimately written for "fellow Afropolitans." In his address, he insisted that African-grounded literature may gain visibility via the digital platform, which he saw as a space that blurred the hierarchies of the literary marketplace which had essentially disadvantaged Africa. His centralization of African and African-located literatures was his way of being in the world; his way of being global, largely defined by his foregrounding of Africa as place(s) and idea(s).  
Gay Rights activism
Wainaina's public support and activism for gay rights can be traced to his coming out. He publicly announced that he was gay in 2014 through the publication of his short essay "I am a Homosexual, Mum" which was "a lost chapter from One Day I Will Write About this Place." This piece was received with great sensation across the globe  and extended public conversations about queerness in Africa. This public proclamation also catapulted Wainaina right into the deep waters of gay rights activism in Africa. His pronouncing his sexuality publicly coincided with many African countries becoming visibly intolerant of the queer community. At this time in Uganda, his mother's land, parliament was debating a bill to introduce the death penalty to those accused of being homosexuals. In Nigeria, the government and public opinion backed by extremist religiosity was pushing for further criminalization of homosexuality which was already deemed criminal. In Kenya, this was a period where public talk on decriminalization and queer rights was receiving heavy backlash. A case in point was the banning of the LGBT themed film Stories of Our Lives in 2014 by the Kenya Film Classification Board. Across the continent, there was much activity around the queer community and a continued hardline stance on the rights of the members of the community. It is against this backdrop that Wainaina's coming out can be read as an act of provocation to those in power both in East Africa and the rest of Africa where the tone against homosexuality was negative. He noted in an interview that he felt in necessary to come out publicly because of these public acts against the community as well as the fate of a friend that had died of AIDS while queer.
Wainaina followed this proclamation soon after with a public declaration of his HIV positive status on World Aids Day in 2016.  In speaking publicly about his sexual orientation as well as his HIV status, Wainaina highlighted the health issues faced by those in the queer community as partly defined by silence. Wainaina  spoke openly about the problematic gaze on homosexuality in Africa. In 2014, when the Nigeria's president signed into law a bill that bestowed a 14-year imprisonment term for anyone who was convicted of practicing same-sex relations, Wainaina spoke out about it in interviews and through his public platforms.
Wainaina suffered several strokes from 2016 and died of one in 2019 aged 48. He was eulogized by writers and critics alike as a revolutionary thinker and a passionate writer and critic.
Further reading
Maureen Amimo, Poetics and politics in contemporary African travel writing (PhD Thesis, Stellenbosch University, 2020), Chapter 3
Emma Dabiri, 'The Pitfalls and Promises of Afropolitanism', in Cosmopolitanisms, ed. Bruce Robbins, Paulo Lemos Horta, and Kwame Anthony Appiah (NYU Press, 2017) <https://doi.org/10.18574/nyu/9781479829682.003.0016>
Grace A. Musila & Dina Ligaga, Special Issue: East African Interventions in African Literary and Cultural Studies, African Studies, 75:2 (2016), 171-175, DOI: 10.1080/00020184.2016.1182316
Binyavanga Wainaina, One Day I Will Write About This Place: A Memoir (Graywolf Press, 2011)
10 Years of the Caine Prize for African Writing (New Internationalist, 2009)