Julia Auma Ojiambo (1936-)
Former parliamentarian and crusader for Affirmative Action
Julia Auma Ojiambo is a Kenyan woman politician, academic, researcher, and gender activist. Born on 29 November 1936 in the current Busia County, she is the daughter of pioneer African missionaries. Her educational history is a curation of impressive milestones; she is one of the first eight beneficiaries of the African Girls High School pilot project in Kenya. After sitting the Cambridge School Certificate examinations in 1954, at the age of 17, Julia was posted by the Ministry of Education to Friends School Kamusinga under a pilot project by USAID aimed at introducing agricultural studies in secondary schools in Kenya for experimental agriculture. She was then transferred to Vihiga Teachers College to participate in a program aimed at upgrading teachers from P4 to P3. On 26 April 1956, one year after completing her secondary school education, Julia was admitted as the first African female student at the Royal Technical College, the current University of Nairobi. This pioneer single student at the Home Science Department of this institution graduated with a Diploma in Home Economics in 1958. She later won a United Nations/FAO/UNICEF Fellowship to study Community Nutrition in London University where she graduated with a Bachelors Degree in Community Health. While in London, Julia briefly worked at the BBC World Service as a broadcaster on the special East African channel.
After completing her undergraduate studies, Julia was employed by the University of Nairobi as the first African woman Assistant Lecturer and the first African woman warden. Due to her keen interest in the welfare of housewives, Julia also became the first African woman chair of the Kenya housewives consumer organization, which she transformed into the Kenya Consumers Organization. Three years after joining the University of Nairobi, she won a scholarship to pursue a Master of Science Degree in Public Health at Harvard University, USA. A third scholarship enabled her to enroll into a PhD program at the McGill University in Canada but due to family commitments, she decided to complete her doctoral studies from the new Medical School at the University of Nairobi, becoming the first student to obtain a PhD in that faculty. After her graduation Julia embarked on a career in academia as a lecturer first in the University of Nairobi and later Kenyatta University. Influenced by the desire to participate in more challenging ventures, Julia immersed herself in the political arena. Additionally, having witnessed and experienced the endemic problem of gender inequality, Julia set up the Center for the Advancement of Women and Children, an NGO that she established to create awareness on human rights through Civic Education and other strategies in the grassroots. Julia is currently a Professor in nutrition.
Crusading for Affirmative Action
The post-independence era was an interregnum period that provided the perfect opportunity for up-coming African women leaders to establish means for participating in governance. This was to be achieved through a series of women's conferences of which Julia was at the center, culminating in Affirmative Action for women. The Kenyan journey towards Affirmative Action began in pre-independent Kenya by a group of white women and was propelled in the post-independence period by the wives of African Reverends. Having established the need for economic development, financial empowerment and self-governance, they wanted to have organizations that would cater for the needs of women. This idea formed the basis of forming one umbrella organization that would fight for the interests of women. Thus the Maendeleo ya Wanawake Organization (MYWO), which aims at empowering Kenyan women and has a countrywide membership, was born with Julia as one of its founders. Although it operated alongside other women organizations like the National Council of Women in Kenya, MYWO was more prominent. While studying in London, Julia had represented Kenya at the All Country Women of the World Conference hosted at the Royal Albert Hall in South Kensington as the MYWO representative. This female solidarity was consolidated in the early 1960s in the women's conferences of the East African States, which were held to marshal and consolidate their strength and experiences.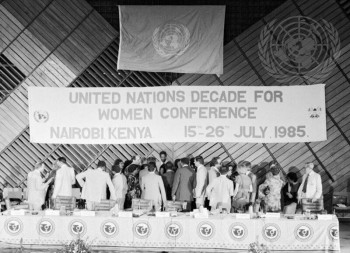 The height of gender sensitization in Kenya was marked by the UN Decade for Women (1976-1985) in a series of World Conferences in which Julia participated. In 1975, she attended the UN Conference on Women in Mexico which sought to emphasise the persistent struggles faced by women intersectionally. The second conference, held in Denmark five years later, focused on the gap between rights that women in developed and developing worlds are privy to and the extent to which they enjoy them. Despite not being a parliamentarian, Julia was commissioned to lead the Kenyan delegation during the third UN World Conference held in 1985 in Nairobi, Kenya. In 1995, she was a key figure behind the Kenya delegation of women to the fourth conference held in Beijing, which changed the history of Kenya towards a female-sensitive country.
Julia's crusading for affirmative action was inspired by the violence she encountered while contesting for a parliamentary seat in 1979 and after. For Julia, gender is one of the weapons deployed by male politicians and voters to detract women from political participation and decision-making. Despite efforts put in place by Civic education programs in Kenya aimed at encouraging female political participation, the gendering of the Kenyan political sphere as male still intimidates women political aspirants and their supporters from participating in politics. For instance, Julia was beaten up, threatened with rape, and even tagged a prostitute for venturing into the public sphere. It is therefore unsurprising that Julia has been a key figure in the National Gender Machinery (NGM) in Kenya. Backed by the current constitution promulgated in 2010, the NMG secures women's political participation through; the one-third women policy, the Affirmative Action Bill, and the Political Parties' Act (2011) that demands gender sensitivity in political parties' administration and nomination of party representatives.
Notably, however, despite the existence of relevant infrastructure to secure women's political interests, there is still a remarkably low level of female political participation, which, according to Julia, is informed mainly by the ignorance of voters and the disinterest among the general public concerning their rights, exacerbated by unfriendly political practices in the country and harsh economic realities. The uptake of female political participation in Kenya is quite puzzling considering its Eastern African counterparts Uganda, Rwanda, Tanzania, and Burundi have more female parliamentarians. The pattern also emerges compared to other African countries like South Africa, Senegal, Namibia, and Mozambique, where female political participation is on the rise.
Political pursuits
Julia's life is a map of many firsts. The former MP for Funyula Constituency is the first woman to contest for a Presidential seat in Kenya, first female assistant minister in the Kenyan cabinet, and first woman chairperson of the Labour Party of Kenya. In 1974, she contested the Busia Central Parliamentary Seat against the sitting MP, Arthur Ochwada, a commendable politician, former freedom fighter who had strong ties to the first family as he was married to president Kenyatta's granddaughter Lucy Nyokabi. Julia nevertheless won and served as a parliamentarian in 1974-78, becoming the second black woman in Kenya to defeat a male contender in politics after Grace Onyango. When President Daniel Toroitich Arap Moi took office following Kenyatta's death in 1978, Julia once again won the now Funyula Parliamentary Seat in 1979 with the overwhelming support of women but was unable to complete her five-year time in parliament due to an attempted coup in 1982 that instigated an emergency election in 1983. Her new opponent, Moody Awori, succeeded her as the next parliamentarian for the next 25 years.
During her tenure as a parliamentarian, Julia tabled a number of bills in parliament, one which led to the establishment of the Kenya Nutritionists and Dieticians Institute (KNDI) which seeks to understand and enlighten the public on the impact of climate on food production and environmental determinants on the distribution of minerals and other food components in different geographical locations. It further seeks to balance these deficiencies through food fortification. Julia also served in several capacities in different ministries. In 1974, Julia became the first woman Assistant Minister and first woman appointed to the Cabinet in Kenya as Assistant Minister for Housing and Social Services and in 1982 she was appointed as Assistant Minister for Basic Education.
Party politics and Presidential aspirations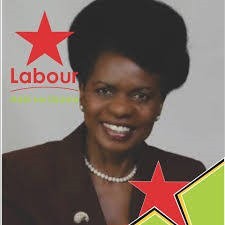 In the first three decades after gaining independence, the Kenya African National Union (KANU) dominated the Kenyan political landscape. In fact, in her two successive terms as parliamentarian, Julia was a KANU member who actively participated in party activities. Due to her known interest in women and youth affairs, Julia was elected as the KANU director of Youth and Women Affairs. Under this docket, she set up the Youth for KANU '92 also known as the KANU Youth Wingers in preparation for the 1992 general elections, a group that was accused of unruly behavior. For instance, an article in The Daily Nation by Tom Mshindi denounced this group of having achieved no development contrary to its objectives. The dawn of multi-party democracy in 1992 that was now gaining momentum towards the 1997 general elections would usurp KANU's dominance. Under the leadership of once KANU fanatics like Kenneth Matiba, KANU was hit by mass defections from its cocoon and Julia defected to Ford Kenya party and later formed the Labour Party of Kenya (LPK).
The period preceding the 2007 election campaigns saw the advent of coalition parties. Julia and LPK became part of the Orange Democratic Movement (ODM) coalition. However, disagreements caused a split in the coalition with Raila Odinga, William Ruto, Musalia Mudavadi, and Joseph Nyagah forming one camp under ODM and Julia Ojiambo and Kalonzo Musyoka forming another under ODM-K. While both Julia and Kalonzo declared their intentions to vie for presidency, party nominations ousted Julia from the run. Thus the controversial 2007 elections in Kenya that were accompanied by rampant violence saw Kalonzo unsuccessfully contest the presidential seat under the ODM-K party ticket with Julia as his running mate. Although expected to nominate Julia as a Member of Parliament, Kalonzo did not, culminating in the demise of their political alliance.
Archives and online sources
Federation of Women Lawyers (FIDA) Kenya. 2013. Key Gains and Challenges: A Gender Audit of Kenya's 2013 Election Process. Nairobi: FIDA.

Inter-Parliamentary Union. 2016. "Women in National Parliaments." Accessed April 4, 2017. http://www.ipu.org/wmn-e/classif.htm.

Kwamboka, Evelyne. "The Iron Lady of Western Province."  Kenya Times Fri. 5 Nov. 1999: pg 14.

Mshindi, Tom.  "Bouquets and Barbs" The Daily Nation Fri. 22 Dec: 1995.

Ngoima wa Mwaura. "Young Woman Leader Holds to Old Values." The Sunday Nation. Sun. 24 Nov.1974: pg 13.

Okumu, Victoria. "The Power of Women" The Daily Nation.  Fri. 15 May 15. 1987: pg 13.

__________. "Ojiambo: Political Future at Stake."Viva Mar. 1988: pg 27-28

 __________. The Saturday Nation. Sat. 11 Jul. 2009:17

__________. The Sunday Nation. January 18, 1998
Further reading 
Nafula Were, Marciana. 2017. Kenyan women in androcentric political culture: from Julia Auma Ojiambo to Affirmative Action, Social Dynamics, 43:3, 487-504, DOI: 10.1080/02533952.2017.1416975
Nafula Were, Marciana. 2012. A youthful spirit for all times: a biography of Julia Auma Ojiambo. University of Nairobi Thesis http://erepository.uonbi.ac.ke/handle/11295/11350
Nzomo, Maria. 2003. "Taking Stock: Women's Performance in Kenya's Parliamentary Politics in the 2002 General Elections." In Women in Politics: Challenges of Democratic Transition in Kenya, edited by M. Nzomo, 17–32. Nairobi: Heinrich Böll Foundation, Regional Office, East and Horn of Africa.
Bonfiglioli, C. 2020. 'Women's Activism, the Cold War, and the UN Decade for Women (1975–1985)', Aspasia, 14(1), 144-147 https://www.berghahnjournals.com/view/journals/aspasia/14/1/asp140110.xml